Joined

Feb 4, 2005
Messages

16,223
Reaction score

0
Amazon Fire TV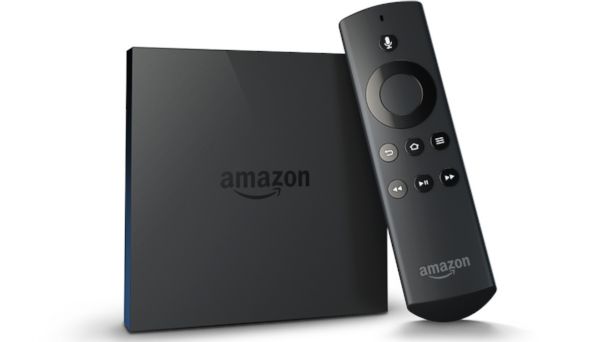 Massive selection—Over 200,000 TV episodes and movies, millions of songs, and over a hundred games
Voice search that actually works—Simply say the name of what you want to watch and start enjoying in seconds. Show me
Tiny box, huge specs—Fast quad-core processor, 2 GB of memory, dedicated GPU, plus 1080p HD video and Dolby Digital Plus surround sound
Easy to set up and use—Pre-registered to your Amazon account so you can enjoy favorite titles and personalized recommendations
Instant streaming—Exclusive new feature ASAP predicts what movies and TV episodes you'll want to watch and buffers them for playback before you hit play
Voice search that actually works
Know what you want to watch? Amazon Fire TV's remote has a built-in mic so you can instantly search TV shows, movies, actors, directors, and genres using just your voice—no more typing with your remote to find what you want. We're confident Amazon Fire TV's voice search is the best you've ever used. You have to try it to believe it.
Mirror your tablet on your HDTV
Share movies, TV shows, music, and even photos playing on your tablet with everyone in your living room. What you see on your Kindle Fire HDX display is exactly what you'll see on your big screen. Control the display from your tablet—one simple command is all it takes to let Amazon Fire TV know when to start mirroring and when to stop.

Second Screen, enhanced with X-Ray
Click the "fling" icon on your Second Screen-enabled tablet to send video and audio to your big screen, leaving you free to use your tablet for other tasks. When you're done watching, simply bring everything back to your tablet with a touch.

Use your Kindle Fire HDX to learn more about TV shows and movies playing on Amazon Fire TV with X-Ray, powered by IMDb. Dive deep in-scene to explore characters, trivia, music, and more.
Amazon Fire Game Controller
Enjoy many games with the included remote or take your gaming to the next level with the new Amazon Fire Game Controller—a dedicated wireless game controller designed to take you deeper into the action. With all the controls a gamer would expect, including dual analog sticks, media controls, and lighted player indicators, it's the best way to enjoy gaming on Amazon Fire TV. Sold separately.
Hands on by Endgadget
Last edited: