Joined

Mar 31, 2004
Messages

9,070
Reaction score

0
Took awhile to get this started.
Finally decided to start this MSI TwinFrozr OC database.
Got inspiration from tErOn's TwinFrozr Club thread.
http://forums.hardwarezone.com.sg/showthread.php?t=3116298&highlight=Twinfrozr+club
Might be useful for future references to Twinfrozr vga card users who wanna
try they hand @ OCin' their card.
Local database based on users with local ambient temperatures.
Be it an R5770 Hawk or N250GTS TwinFrozr, you're all welcomed to shared your results.
Basically any MSI TwinFrozr card user.
What details are needed to be in your submission for the database :

-Forum nick
-Card model
-Default card speed
-24/7 usage speed + card temperature + fan speed
(A screenshot of Furmark 1.9 with your 24/7 usage vga speed. Burn test must be at least 15mins.
A GPUz tab and AfterBurner interface must be in the screenshot too.)
-Highest or best overclocked speed of your card.
(A completed 3Dmark Vantage screenshot must be shown.)
-All results must be using the default TwinFrozr cooler. No 3rd party coolers.
-Others : Additional info that you might like to include.
Simple right?
Now, I managed to get some freebies too.
How about this?
The 1st 10 correct submissions will each receive a :
3DMark11 Advanced CD key
(Better then nothing
)
This is how your submission should look like.
Forum nick : clon22
Card model : MSI N580GTX TwinFrozrII OC
(As per on the box / card label)
Default speeds : 800/1024 (GDDR5)
24/7 speeds: 900/1200 / 77degrees / 65% fan speed
(If its auto, just put "audto fan speed".)
Highest OC : 990/1225
Others : 24/7 speeds @ stock VID of 1.0v. Max OC is @ 1.14v.
Both screenshots below.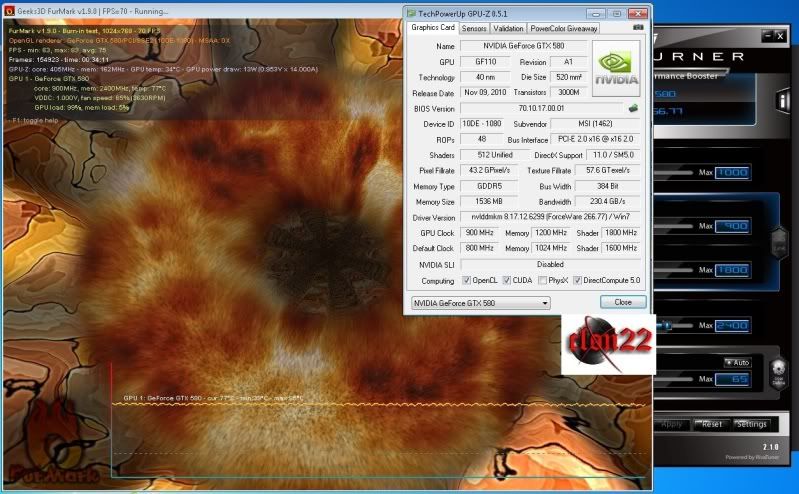 That's all.
I'll update the database from there if all the details are correct.
Please post accurate info.
Don't use any 3rd party cooler or watercooling setup to post as your default TwinFrozr cooler result.
**Only correct data will be considered as the 1st 10 submissions.
If you're missing any info, please update before I point out.
Once I point out, it'll be place back into the queue and the subsequent post will be taken as the correct entry.**
For other entries besides the 1st complete 10,
I'll still update. Just add as much info to help build up the database.
Thank you.